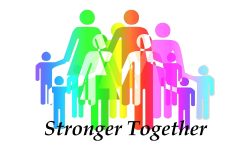 Joining Team Rainbow as a business, club or individual provides substantial benefits such as: –
Team Rainbow promoting your club, sport, event, function, via our front and regional pages, by offering a variety of sporting, and recreational, activities.
Team Rainbow's Facebook and Instagram

: Traffic to the site has enabled members to be promoted locally, nationally, and internationally and smaller organisations and clubs to maintain a real presence.

Networking Events: Such as corporate functions, e.g. Team Rainbow's hosting of the first Pride House in Australia at the Commonwealth Games, Gold Coast.
Website:  Members are invited to email: To contact us,

TRY HERE

with their new pics and organisation description, for inclusion.  Team Rainbow aims to be visible in local and overseas publications and online media outlets, as financially possible.
Annual Fundraising Dinner:  In order to bring members together, an annual Dinner enables members to network, socialise, and invite new members to Rainbow's inclusive community.
Strength in Numbers: Presenting a united vision and united stance, e.g. against phobia in sport, in representing Rainbow at national and international sporting events, e.g. Team Rainbow is a member of the FGG (Federation of Gay Games) with 2018 representation at Gay Games 10 in Paris.
Uniforms: Team Rainbow has entered into a sponsorship agreement with a uniform supplier, who will provide excellent value sport and uniform wear to Team Rainbow members at competitive prices.
Insurance: Team Rainbow has entered an attractive Insurance programme and members are able to benefit from this also.  Team Rainbow can arrange insurance through our broker at a reduced rate on behalf of those members without insurance.
Banners: Team Rainbow has entered an arrangement with a supplier to provide banners at reduced cost to Team Rainbow members.
Corporate Sponsorship: Team Rainbow is successfully growing our sponsors and supporters.  Members may be able to access the benefits that sponsorship may provide.
When renewing your membership, simply click the automated links at the top left-hand corner of our website and amend where necessary (including your Membership Grade) or complete the online form, if you are new.
Club, Team, or Organisation fees are $60 per annum (or $30 for organisations with fewer than ten members). APPLY HERE
Your feedback is important.  Any comments on how we can better serve your needs can be emailed to:  Contact Us – HERE.